My obsession with the Kat Von D Shade and Light Eyeshadow Palette all started when I was packing for my friend's bachelorette trip to Vegas.
I'm already notorious for overpacking. I swore to myself that this would be the trip that I finally would break the bad habit. 
Two cocktail dresses later and a pair of killer-yet-comfortable peep-toe pumps, I was feeling good. I glance over at my makeup vanity, knowing that my beauty items were going to be much harder to trim down.
A makeup blunder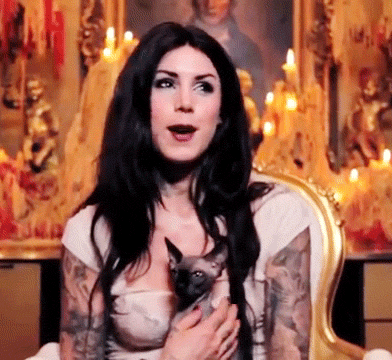 All of my eyeshadow singles spread out, marking their territory from the fallout of previous applications. I had my work cut out for me. 
Then she jumped out at me: Miss Kat Von D and her Shade and Light Eyeshadow palette

. This palette is certainly not new to the market, but it is one to stand the test of time. I packed her in my carry on with ease thanks to its sleek and slim packaging.
The all-inclusive palette
The palette is appropriately named (and why wouldn't it be), including a variety of tones and colors. This palette truly has everything one would need for a soft and neutral day time look or a smoky smoldering evening eye. 
This palette has three sections that have four shades, each making a total of 12 pressed eyeshadows. The fact that each part is suited for neutral, cool, and warm tones makes this unbeatable when searching for the ultimate palette.
Love palette reviews? Check out my reviews of the Morphe x Jeffree Star Palette

, James Charles Palette

, and the original Jaclyn Hill Palette

.
The neutral quad
The neutral-toned quad features Laetus, which is the largest shadow pan in this section, in addition to being the recommended base shade. It's a pale shade with yellow undertones. This shade is usually my go-to for blending out the eyeshadow shades.
The second shade is Samael. It's a lighter, neutral-toned brown.
The palette recommends that this be your eye 'contour' color, but I think it is perfect as a transitional shade between your crease color and the rest of your eyelid. It has enough depth to it for a great color payoff.
The 'define' shade in this quad is the deepest and called Solas. Solas is a vibrant and smooth darker brown. Imagine smudging your eyeliner out with this color. One word comes to mind. Yummy.
This quad also contains Lucius. This shade is my most-used blending shade. It's a very creamy, blendable, and not entirely white shade that looks great when used all over or just a pop of light added to your eye look. 
I've used this portion of the palette to great easy day-to-day looks featuring smoked out creases and smudged-out liner.
It's sexy and understated, which is so my style.
The cool quad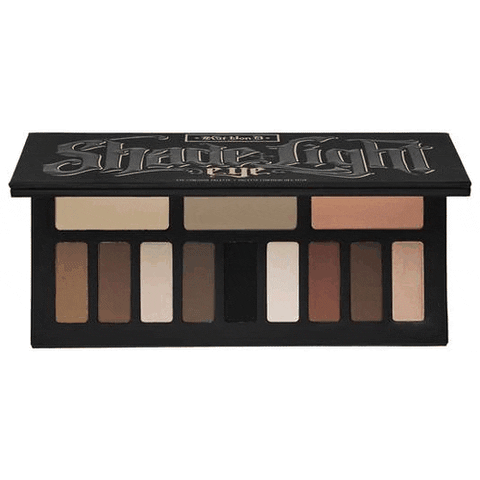 The cool quad is easily my favorite section of the palette. 
The top shade, named Lazarus, is not only the intended 'base shade' for this quad but also my favorite transitional shade. It is a gorgeous cool-toned taupe that I have yet to find unflattering on anyone. Seriously. 
The next shade is a deep smokey colored gray shade named Saleos. This shade is one that I like to use with a wet eyeliner brush to create a not so structured eyeliner cat-eye wing. In my opinion, this is the shade that solidifies any smoldering sexy eye look. 
The third is the black shade, Shax. Black colors, in my experience, tend to have a lot of fallout. So many of my makeup looks have succumbed to the droppings of a crappy black eyeshadow.
I was so happy, but not entirely surprised, to find that Shax has hardly any, IF ANY, fallout and is very buildable.  
Ladies and gentlemen, may I present to you Liberatus – a beautiful white matte shade included in the cool-toned quad.
White eyeshadows all too often have every promise to offer when it comes to pigmentation with very little follow-through but surprise!. Not Kat Von D. I love this shade in my inner corner to brighten up a look.
Warmer-toned quad
Never in my life have I seen a shade quite like Indwin. It is a peach shade that surprised me on my first use. I didn't expect to like this color as much as I do.
Hint: this shade all over the lid plus Lazarus blended out is a serious moment on your eye and so easy to achieve. You're welcome.
Next is Succubus. Succubus is another unique shade that I was so iffy about liking. It's a brown color that picks up a lot of red undertones.
I wore this shade over some gold eyeshadow and got so much attention from it. If you want to make a statement with your eyes, this is the shade to choose. 
I love that Sytry is in this palette. It is the darkest of the brown shades, boasting the most luxurious, chocolatey color.
As dark as this shadow is, it isn't harsh looking when used in the crease. It adds so much depth to any eye look or to, once again, smoke out eyeliner. So sexy. 
The last shade seems to have a slightly different formula.
Latinus is a bit creamier than the rest of the shadows. I've used this not only as a brow bone highlight but also as a cheek highlight too, and it is phenomenal. 
Shade and Light
Appropriately named, of course, the Shade and Light Eyeshadow Palette covers just about every need to create a look that leaves you feeling confident. 
My love for this palette has only grown. It seems as though Kat Von D had me and my Vegas trip in mind when she created it. It is a great grab-and-go palette, or if you're like me, you're go-to for vacationing.
The 12 shades she picked can be used in any look you may be wanting. 
Did I mention the mirror? The gods of the makeup world shine down on this palette for the mirror size alone. Every detail is accounted for in this palette, whether it be packaging or blend-ability. 
I've searched the web and linked the palette here for you.
Grab your own Kat Von D Shade and Light Eyeshadow Palette

. Whether you are on the go or needing a staple in your collection, this one has you covered.