As a salon owner, professional hairstylist, and microblade specialist, I fully know the importance of choosing the best tools for the job. I believe that excellent hairstyling products and tools give you the results you're looking for in half the time. The Revlon One-Stop Hair Dryer and Volumizer

(aka "The Game Changer") does JUST that. 
Add this baby to your hair care accouterment for gorgeous, professional-looking hairstyles at home. 
Owning this oval-shaped, all-in-one drying and styling tool will make at-home blowouts a breeze. And? You can choose your favorite color, too:
Pink

Mint

Black

Red

Turquoise
The Right Stuff
The Revlon One-Stop Hair Dryer and Volumizer

has a ton going for it, starting with the fact that it delivers gorgeous volume and brilliant shine in a single step. Yup! A single step. 
I'd rather spend more time on my make-up, or my outfit, than my hair. 
Maybe that's because I own, and already spend loads of hours at, a salon. Yes, that's probably it. 
Wouldn't you love to get that brilliant blowout for your next ZOOM meeting, in-person gathering, or special occasion, in half the time and at home?
I would, and I do with this fantastic addition to my at-home arsenal.
This brush's unique oval design, combined with nylon pin and tufted bristles, makes this three-heat 'n speed baby the Cadillac of blow dryers. How? This heat tool:
Detangles

Creates volume

Improves control

Includes a cool-option for styling flexibility
This And That
This hair dryer AND volumizer is a stylish hot airbrush that produces luscious volume and brilliant, sleek sheen in one step. Check out these fabulous features:
Reduces frizz

Unique oval design

Dries and volumizes

Tangle-free bristles

Innovative airflow vents

Multiple heat settings

Lightweight, ergonomic design
One of the biggest draws for me is how this design allows me to get the brush super close to my scalp. What does this mean? It means the difference between so-so volume and lift and super-fabulous volume and lift.
It's also perfect for the gym. I can have great looking hair post work out with very little effort. I choose the cool setting to spare my hair extra heat.
Comfort Is Key
I was blown away (no pun intended) by how comfortable this one-step volumizer was to use and hold. 
My biceps and delts were accustomed to getting sore during a blowout. Not anymore! And trust me, your muscles will thank you for the decrease in your styling time. This lightweight, ergonomic haircare tool styles AND dries at the same time! 
The cool tip at the top of the round brush is a safe place to grab with your other hand. Few features drive me crazier than a haircare tool that doesn't feature a long, swivel cord. This puppy has a 6 ft. swivel cord.
Now, if you're someone who has convinced themselves that you can't easily create salon-quality hair at home, you can! Even IF you've never held a round brush before.
The Revlon One-Stop Hair Dryer and Volumizer's smart design produces smooth hair with brilliant shine and luscious volume with minimal tugging while thoroughly drying each section.
Easy, Breezy Styling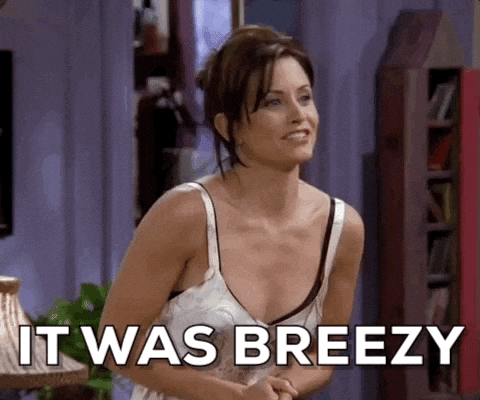 The Revlon One-Stop Hair Dryer and Volumizer can be used on all hair lengths to dry, style, and provide volume. I find that this great hair tool styles best on towel-dry hair. Unlike conventionally-shaped dryers, you can get this oval-shaped volumizer closer to the scalp for added lift.
Featuring boosted ionic technology, this blow dryer and styler decreases drying time, reducing heat damage

. I love its unique oval design with soft rounded edges. This all-in-one unit creates jaw-dropping volume from the root and creates stunning, full-bodied bouncy curls.
I see the same quality blowout as I see at the salon (shhh, don't tell).
Use Me!
To begin, run a wide-toothed comb through your towel-dried-but-still-damp hair. Distribute your favorite blow drying product, making sure you get to the ends of your hair, then grab your one-stop hairdryer and volumizer.
Now, depending on your length, section off your hair and choose a heat setting for your needs. For instance, if you want a quick fresh-up after the gym, the cool setting is perfect for that. But if you're right out of the shower, a higher heat setting is best.
Now grab a section of your hair and place that round brush right up to your scalp. I like to let it run there for about 10 seconds to jump-start drying my hair at the roots. 
Now gently pull the round brush through your hair section, toward the end of your hair, cupping the hair with your other hand, and start turning the brush to grab hold of your hair and continue turning the brush as you dry and style your hair. 
The Dam(p) Truth
As far as the debate goes about drying and styling your hair when wet or dry is long and varied. I'll simplify it:
This drying and styling tool works best on damp hair. 
And it's not designed solely for Caucasian hair. One reviewer said, "As a black woman I was skeptical about the ability of this dryer to straighten my hair…Well baybay, I'm in love…I highly recommend this dryer to anyone looking for an alternative to a regular blow dryer." 
Another said, "This is the closest thing to a blowout I've ever been able to achieve at home. My frizz is under control, take that humidity!"
Worth Every Penny
This best-selling and wildly popular dual-action hairdryer and volumizer is truly a game-changer. As a stylist, I've often coiffed my locks at work because that's where the best products are. 
Not anymore. I can create salon-quality blowouts, with flouncy curls and styles, in half the time in the comfort of my own home. 
Are you a self-proclaimed person who says they can't style their hair? Well, those days are over. I highly recommend giving the Revlon One-Stop Hair Dryer and Volumizer

a try. Then stand back and await the compliments you'll receive and curiosity about how often you visit the salon.