My clients have been asking about an at-home gel nail kit that works. I am happy to share a kit I'm confident in recommending because I trust the results. I have been using it at home and have used this brand in the salon in the past. 
I found it through Sally Beauty, and it's called the Mini-Soak Off Gel Nail Polish Complete Starter kit

. 
I struggled for a long time with perfecting a manicure before I received training. Too often, I would get poor results, even when I followed instructions. My manicures were epic failures that wouldn't last! So I'd head to a salon to have someone else do it. 
I love getting my nails done at the salon. I am always happy with the results. I understand though salon manicures take time and can be pricey. Sometimes you have to save that money and do them yourself at home. 
What I love about the Gelish Mini Starter Kit is it's all-inclusive! The kit comes with a LED light, 2 Gelish colors, and step-by-step instructions. 
Many kits claim the manicures will last for three weeks, but this one does! It is also safe to use on both natural and acrylic nails, so bonus! 
The two Gelish soak-off colors it comes with are Gossip Girl, a bright pink color, and Good Gossip, a red glitter! As long as you follow the instructions, you can do a long-lasting manicure at home with ease. 
Here are my instructions for a perfect home manicure with the Mini-Soak Off Gel Nail Polish Complete Starter Kit

.
Gather Your Supplies
Make sure you have everything in front of you before you get started. You don't want to be running around grabbing tools when you have wet nails!
For the best gel polish manicure you are going to need:
The LED light

Gelish nail polish in your chosen color

Acetone to remove old polish, cotton pads, and nail polish soak off clips (a great alternative to tin foil!)

Cuticle remover liquid

Nail file

Cuticle remover and cutter

Nail Buffer Block

Rubbing Alcohol or lint-free nail wipes

PH bond, base coat, and gel polish top coat
Remove Old Polish
There is a method to remove old gel polish that makes it less messy and painful. The best invention is nail polish soak off clips, but if you haven't bought those yet, the tin foil will work just fine. 
First, cut the cotton pads into small pieces and soak with acetone. Then buff the top of your nails and cover with the cotton pad. Put on the soak off clips or use the tin foil to hold in place.
Let your nails soak for fifteen minutes. 
Once your timer goes off, take off the clips or foil that have soaked off the old gel polish. Scrape off any remaining gel polish with a steel cuticle remover or scraper. If the polish seems difficult to remove, soak your nails a little while longer to help the old polish lift. 
Prep Your Cuticles and Nails 
Apply the cuticle remover liquid to your cuticles and rub it in well. Next, use the steel cuticle remover and scraper to push down the cuticles and eliminate the extra skin. 
Clip and file your nails to the length you want. Use a nail file to shape them. Try square, coffin, or stiletto for something trendy! 
Next, you will want to buff the top layer of your nails to help the Gelish polish stay. Do not skip this step! 
Rinse and Prep
Just like at the salon, rinse your hands with water but do not use soap. Rinsing removes all the dead skin and the extra cuticle oil. 
According to Cosmo

, you need to make sure all of the oil is off the nail before starting the gel process, or it can cause the gel polish to lift earlier than you've planned. 
Dry your hands well and apply the PH bond to dry out your nail beds. 
You are now ready for the base layer. Apply a very thin layer of Gelish Foundation gel color. With the Gelish Mini Handheld light in the kit, you only need to let it cure for 45 seconds. With other UV light systems, you will need to for up to two minutes. 
My best tip is to make it a light layer of base coat. It saves time, mess, and perfects the manicure. 
Apply Gel Polish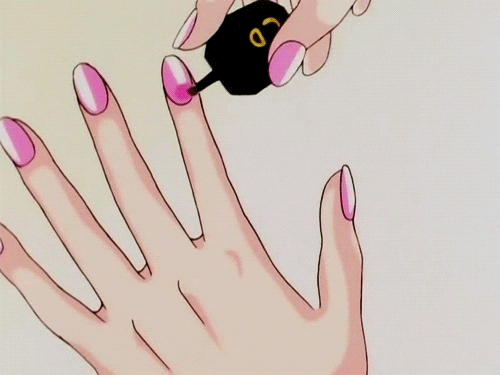 Again, apply a thin layer of the colored gelish polish. Do not apply more than one layer without curing it. 
I repeat: You. Have. To. Cure. Between. Each. Layer.
If you get any polish on the surrounding skin, use acetone to clean it up before using the lamp again. 
Try not to get any polish on your cuticles, or the polish will tend to peel later. One trick I use if I get nail polish on my cuticles is to use a toothpick to get rid of the gel polish quickly. 
After you apply the first thin layer, cure, and then apply a second thin layer. Cure after every layer according to the directions of the lamp you are using. You shouldn't need to apply more than two layers, but you may want to apply a third if you use a very light color. 
With either of the colors that come in the Gelish Gel Nail Polish Complete Starter Kit

, two thin layers are golden! 
Finally, wrap it up with a Gelish top coat, cure, and set the polish aside! 
Wrap It Up
I love to use lint-free nail wipes at the end to get rid of any leftover residue. If you do not have any wipes, straight old rubbing alcohol works well. Soak a cotton pad in the rubbing alcohol and swipe across each nail. 
You are then good to go. That is the beauty of gel polish. No need to wait for anything to dry before you can move on with your day! Show off those nails! 
You can also use this kit on toes! Check out my article on how to get rid of rough feet

for advice on perfecting the feet for an at-home pedicure. 
Try to Remember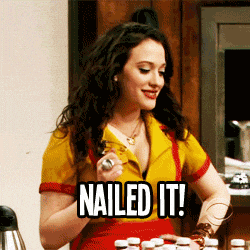 Practice does make perfect. It is okay to mess up. I am a stylist, and it took me a lot of time in beauty school to perfect a manicure at home. 
However, the Gelish Gel Nail Polish Starter Kit

makes it a heck of a lot easier! 
Use the tools, practice, and have patience. You will be doing salon-perfect gel manicures in no time!