Not all of us have the time in the morning to get into full glam. But if we did, that would be the life, wouldn't it? Here's a pro-tip: dry shampoo is the MVP for all you rushed babes. 
Sometimes we have to sacrifice our beauty regimen for a little bit of extra sleep in the morning. Don't fret, though, because, in today's beauty world, we have dry shampoo.
Today I will go over all my tips and secrets to using dry shampoo and how to have a successful application every time!     
Step 1: Shake it, girl! Shake that bottle! Do you want your dry shampoo to work? I know you are in a rush in the morning and need some time to do your brows, but it is crucial not to skip this step. 
Shaking the bottle of dry shampoo is essential to minimize the white powdery residue that can be left behind. 
So shake that bottle like a bartender making a cocktail. You'll thank me later when it's 2 pm, and your hair is still grease-free.
Step 2: Start to section off your hair and spray.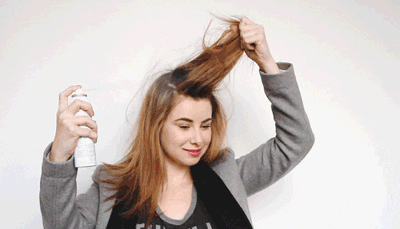 Distribute the dry shampoo through your hair as evenly as possible. Hold the bottle at a slight angle and 10″ from your scalp. Spray the dry shampoo in short, quick bursts holding the can at a distance that will allow the product to fall evenly on the scalp.
Make sure you have sprayed every nook and cranny of your scalp and let the product sit in your hair for a minute. It is essential to let the product sit in the hair so that it is able to absorb your hairs' oils. If you skip letting the product sit, don't come to blame me when your hair does not feel refreshed entirely all day long. 
Step 3: Massage the dry shampoo in!
Once you let the dry shampoo sit and absorb the oils in your hair, you need to massage the product in with your fingertips. 
When you massage the product into your hair, it activates the starch element in the dry shampoo and helps dissipate the white residue left from spraying your hair.
If you'd like to avoid getting the product on your hands, you can use a brush to distribute the rest of the product through your hair. 
I recommend a Wet Brush

or the Prepping Paddle Brush from Brushopolis

.
A bonus to massaging the product into your hair is that while you are rubbing your scalp, you are also stimulating your hair growth.
So give yourself a little bit of a scalp massage and reap the benefits from your self-care! 
Step 4: Style and go! 
Now all that's left to do is style your hair! You can use a straightener or a curling wand to give your hair some curl. There is a bonus that dry shampoo will add texture and body to your hair. 
The added texture makes the hair perfect for braided styles, messy buns, and updos! 
Now that we have discussed the secrets of using dry shampoo, I will discuss some salon dry shampoo options that will change your feelings about second-day hair! 
The first product is Bed Head's TIGI Oh Bee Hive, matte dry shampoo. Bed Head is light and will leave your hair virtually residue-free. Bed Head comes in an eye-catching yellow and pink can and contains 5 ounces of product.
Bed Head's matte dry shampoo will leave your hair smelling phenomenal. You will also be impressed by the application of this dry shampoo, it is easy to apply and will leave your hair voluminous but without any of the sticky residue that some dry shampoos can leave behind. 
Let me tell you about Oribe Gold Lust dry shampoo

. This stuff is bottled GOLD! (pun completely intended). Oribe comes in a 6-ounce can and has a very high-end look and feel to it. This dry shampoo will leave your hair flawless. 
The spray bottle is easy to use, and a product that I always keep in my arsenal. This dry shampoo keeps your hair looking fresh all day long and never leaves your hair with a dull look. This dry shampoo will make your hair smell phenomenal and textured without any greasy residue.
Drybar Detox dry shampoo

comes in a beautiful turquoise bottle, and it will look so cute sitting on your counter with all your other products. Drybar comes in a 3.5 ounce can and is the perfect size for travel. 
You can throw into your bag and not have to worry about it taking up too much space.
Drybar has a unique and extremely absorbent formula that eliminates all the oils and impurities from your hair. 
Drybar will leave you with matte, fresh, clean hair that is voluminous. Drybar has hints of jasmine, sandalwood, and vanilla. 
The scent is not underwhelming or too overpowering. It also has the bonus of being cruelty-free and no animal testing. 
Biolage Waterless Clean & Recharge dry shampoo

is an affordable option that will leave your hair feeling fresh all day long. Biolage contains 3.4 ounces of product. This dry shampoo does not leave behind any residue. Biolage will work well for you, even if you have thick dark hair. 
This dry shampoo was featured in my Best Gift Guide for Beauty Lovers on Your List

too, so you know it's a winner!
Kenra Volume dry shampoo

is another dry shampoo that is exceptionally affordable, and for the quality of it, you will not be disappointed by it. Kenra dry shampoo comes in a 5 ounce can, therefore you are getting a bang for your buck! 
Kenra dry shampoo will instantly refresh your hair at the root. Kenra will help add texture and lift to thin hair. Kenra makes your hair feel refreshed without leaving it dry and crisp feeling. 
Clean hair, thanks to dry shampoo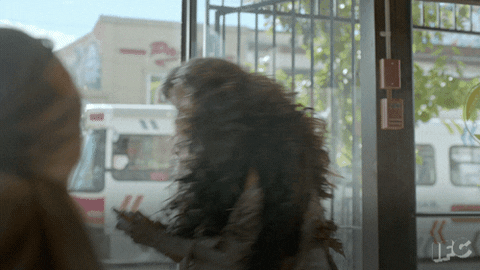 Remember to shake, section, massage, and style.
Now that you know the steps to getting the most out of your dry shampoo get some, and start spraying!